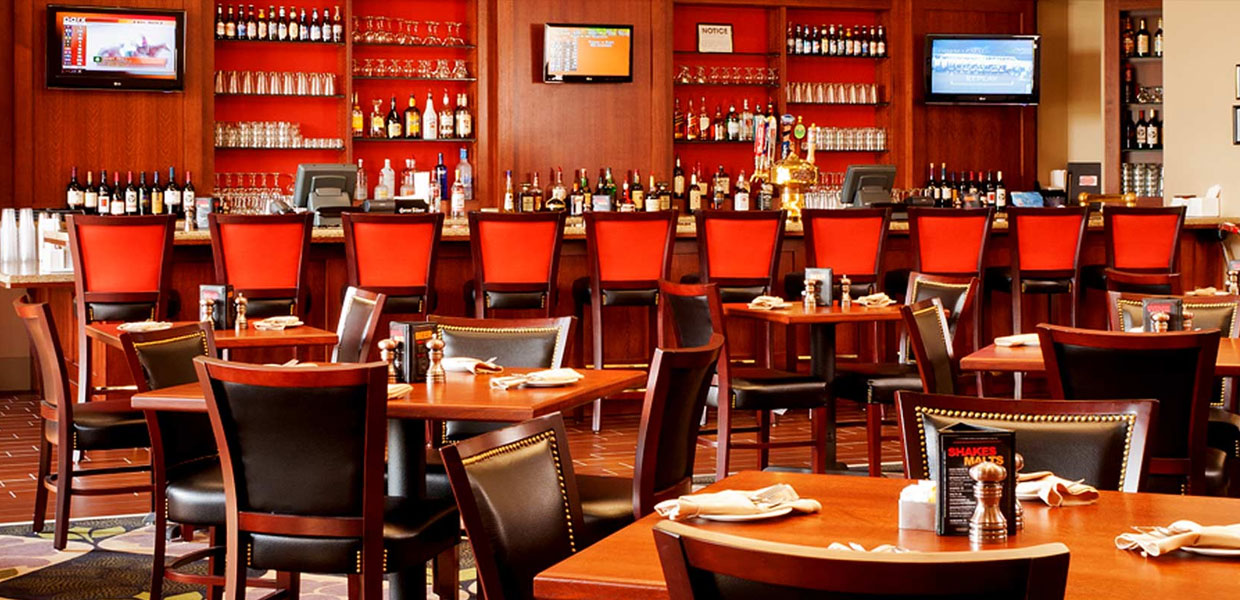 Featuring choice steaks, seafood, pasta dishes and some of our chefs favorite creations.
Hours:
Thursday – Saturday: 5pm – 9pm
DINNER
STARTERS
SEASONED CHIPS – Basket of house made seasoned chips with dipping sauce $6
LOADED SEASONED CHIPS – Basket of house made seasoned chips with Crumbly Bleu Cheese, bacon and dipping sauce $8
CRAB CAKE PO' BOY – Two house made crab cakes over crostini with Chipotle Aioli, coleslaw, and house made chips $14
MOZZARELLA FRITTA – Fresh Mozzarella hand breaded served with fresh Marinara sauce $13
LEMON GARLIC SHRIMP – Sautéed shrimp with tomatoes, basil, and spinach in a garlic white wine
sauce, over crostini, finished with fresh lemon $14
ZIO GURAL'S MEATBALLS – Three old world meatballs, hand-rolled with fresh ground pork, beef and veal. Served over G's Marinara sauce, topped with shaved Parmesan cheese $11
TEMPURA BASKET – Battered vegetable medley, fried golden brown, garnished with a Teriyaki Aioli $12
FRENCH ONION SOUP – Caramelized onions simmered in a rich beef and red wine jus, fresh herbs, and garlic, topped with french bread crostini and Swiss cheese $8
SAUTEED MUSHROOMS – Fresh mix of exotic mushrooms sautéed with garlic, onion, spinach and bacon, served over fresh garlic bread finished with shaved Parmesan cheese $14
SALAD
HOUSE – Mixed greens, tomatoes, cucumbers, onions and house made croutons with choice of dressing $7
WEDGE – Iceberg wedge, buttermilk Bleu cheese dressing, crumbled bacon, and diced tomatoes $9
CAESAR – Fresh romaine, Parmesan cheese and house made croutons, tossed with creamy Caesar dressing $11
SANDWICHES (Served with Potato Wedges)
Mr. G'S BURGER – 8 oz. Wagyu burger topped with NY Sharp Cheddar Cheese, bacon, house roasted red peppers, lettuce, and tomato, served on our Ciabatta roll $18
MUSHROOM SWISS BURGER– 8 oz. Wagyu Burger topped with Swiss Cheese, sautéed exotic mushrooms, lettuce, and tomato, served on our Ciabatta roll $18
CHICKEN PARMESAN SANDWICH – House made chicken parmesan on our Ciabatta roll, with G's Marinara sauce and Mozzarella cheese $15
ITALIAN CHICKEN SANDWICH – Marinated grilled chicken breast with fresh Mozzarella cheese, mixed greens, fresh tomatoes, and basil aioli, served on a Ciabatta roll $15
CHEF'S FAVE – Warm pastrami, NY Sharp Cheddar Cheese, raw onion, tomato stacked high on marble rye with brown spicy mustard $14
PASTA
JEFFREY'S PASTA – Sautéed shrimp, scallops, and broccoli in a garlic herb butter and White wine sauce tossed with Farfalle pasta $23
CHICKEN ALFREDO – Grilled chicken breast and broccoli tossed with Fettuccini in a creamy Alfredo sauce $18
CAPELLINI AND MEATBALLS – Old world meatballs, hand-rolled with fresh ground pork, beef and veal tossed with house Marinara and Capellini pasta $16
PASTA CUCINA – Cavatappi pasta, tossed in Chef's creamy vodka sauce, along with prosciutto, strips of grilled chicken breast, and green peas. Add sliced hot cherry peppers on us! $18
HATS AND BROCCOLI – Broccoli and Italian sausage in a garlic white wine sauce tossed with hats $18
SEAFOOD (Served with choice of Two Sides. Excludes Shrimp Basket)
CRABBY HADDOCK – Crab stuffed haddock finished with a garlic citrus butter sauce $30
CHEF'S CRISPY SCALLOP – Pan seared scallops on top of sautéed spinach in a creamy piccata sauce $38
BROILED SCALLOPS – Fresh broiled scallops topped with brown butter and seasonings $36
FISH FRY – Fresh beer battered haddock fried golden brown served with coleslaw and tartar sauce (Also served broiled or lightly breaded) $18
SHRIMP BASKET – Large beer battered shrimp fried golden brown, served with potato wedges, coleslaw and cocktail sauce $25
ENTREES – Served with a choice of two sides
12oz FRENCH CUT PORK CHOP – Charbroiled pork chop topped with garlic compound butter $20
12oz NEW YORK STRIP – Choice USDA strip steak, charbroiled with our house seasoning $35
10oz FILET MIGNON– Choice USDA beef tenderloin seasoned and finished on the chargrill $48 5oz Filet $25
JEFFREY'S MEDALLIONS – Two 5oz filet medallions seasoned and charbroiled stuffed with roasted asparagus over crostini topped with a garlic mushroom Stilton cream sauce $52
CHICKEN FRANCAISE – Tenderized chicken breast dipped in egg, sautéed with lemon, butter, garlic and white wine $23
CHICKEN OSCAR – Tenderized chicken breast dipped in egg, sautéed and baked , topped with fresh crab meat, asparagus, and Hollandaise sauce $25
CHICKEN SCARPARIELLO – Marinated grilled chicken breast finished in a hunter sauce with plum tomatoes, wild mushrooms and sausage $23
SIDES
MASHED POTATOES
POTATO WEDGES
BAKED POTATOES
RICE PILAF
BROCCOLI RABE
GARLIC CARROTS
CREAMED SPINACH
ROASTED ASPARAGUS with HOLLANDAISE additional $5
SAUTEED WILD MUSHROOMSONIONS additional $4
SAUTEED ONIONS additional $3
HOUSE MADE HOLLANDAISE, BERNAISE, G's GARLIC OR CITRUS BUTTER additional $2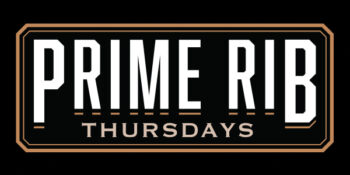 Prime Rib Thursdays
Thursdays in June, 5pm-9pm
$22
Slow roasted  12oz Prime Rib served with choice of sides and au jus.
Book online at our website with OPENTABLE or call (315) 829-6800 ext 2123.
Vernon Rewards Club level discount not applicable to Thursday special.